With the heat of summer soon to be knocking on our doors, I thought it would be a good idea to write about the best Hip Hop Festival Lineups in Europe. From Wireless to Rolling Loud, this summer is swelling with mainstream and underground talent that Hip Hop fans can see live!
Rolling Loud: Portugal (Portimao, Portugal)
5th – 7th July
With the first show starting in 2015, Rolling Loud is one of the biggest festivals in the world and undeniably the biggest Hip Hop festival in America, featuring acts like Future, Travis Scott, Nicki Minaj, and Lil Baby every year. However, fear not European fans for Rolling Loud does offer a European leg of the festival in Portimao, Portugal.
What makes the Portugal event different from the US events is the variety of talent. The US festivals often exclusively feature American artists, whilst the Portugal event merges popular UK talent with the global stars of the US. This means you get more bang for your buck if you're a fan of both music scenes.
Official lineup poster below:
General Admission tickets range from £201 to £274 from the 3rd release to the final 6th release.
VIP Tickets range from £274 to £320 from the 3rd release to the final 4th release.
Parklife (Manchester, UK)
10th June – 11th June
Although Parklife is more recognized for its Indie and EDM lineups, it does offer a significant amount of new UK and underground Hip Hop talent, as well as legendary 90's artists. Parklife is also one of the cheapest festivals on this list and is based in Manchester, a relatively cheap city to stay in if you're planning on staying over.
The Hip Hop acts on Parklife's lineup are: JPEGMAFIA, Knucks, Little Simz, Aitch, Wu Tang Clan, Anderson Paak & Knwxledge, Nas, Slowthai.
If you're interested in more than just the Hip Hop acts, the official lineup is below: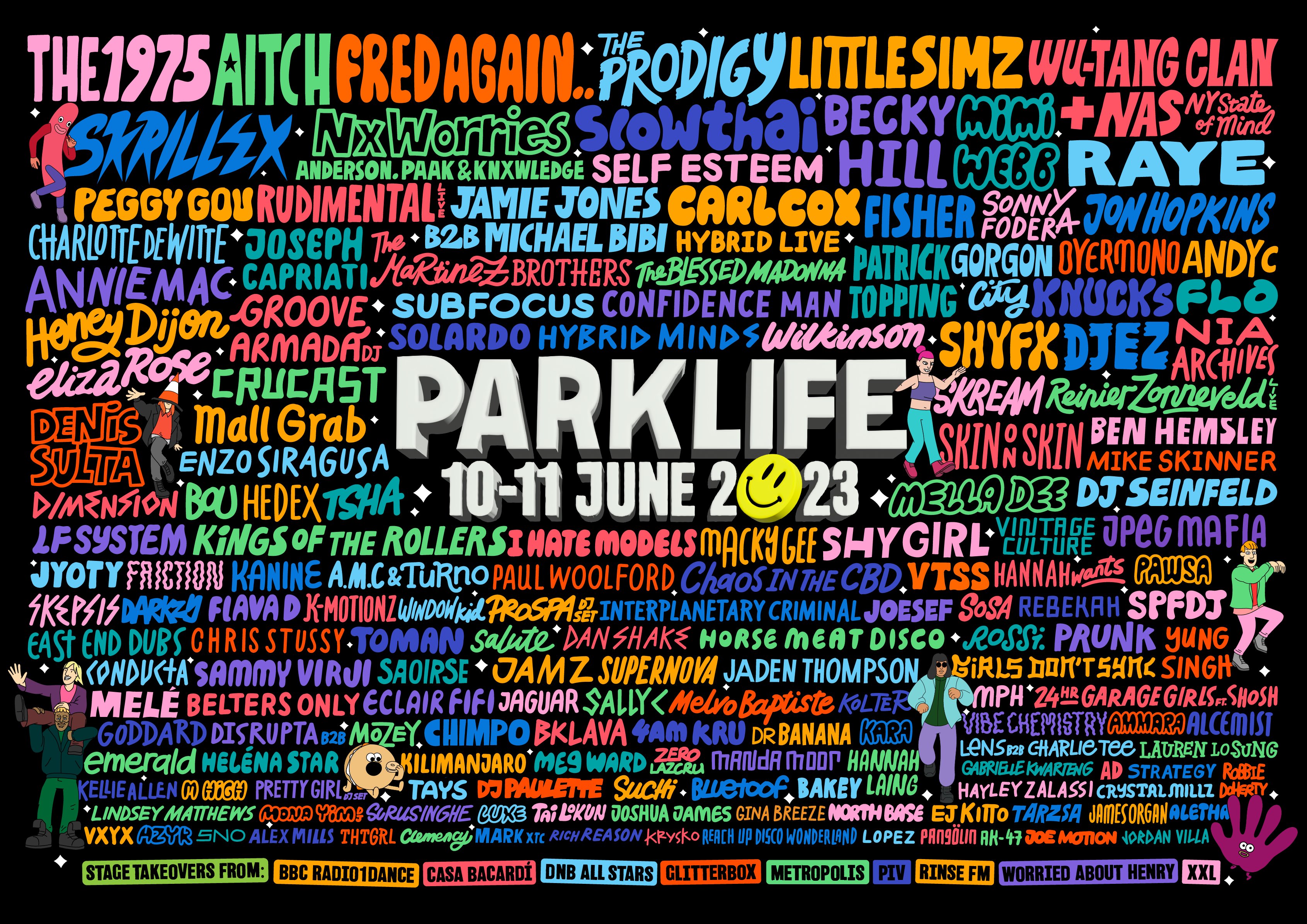 Full weekend tickets start from: £149.50//VIP tickets: £185
Saturday tickets start from: £95//VIP tickets: £114.50
Sunday tickets start from: £84//VIP tickets: £114.50
Wireless Festival (London, UK)
7th July – 9th July
For lovers of mainstream and underground American Hip Hop, Wireless is undeniably the best festival in the UK. The festival offers a broad range of US talent that a lot of UK fans rarely get to see perform. The festival consists of three days with a headlining act for each day. The only downsides to Wireless are that it is a "No Camping" festival, so people will have to find an affordable place to stay if they wish to stay over (easier said than done with London's prices). Also, for fans coming from outside of London, prices for food and drinks will feel very expensive because of the price difference, so try and account for a bit more spending money.
Official lineup poster below: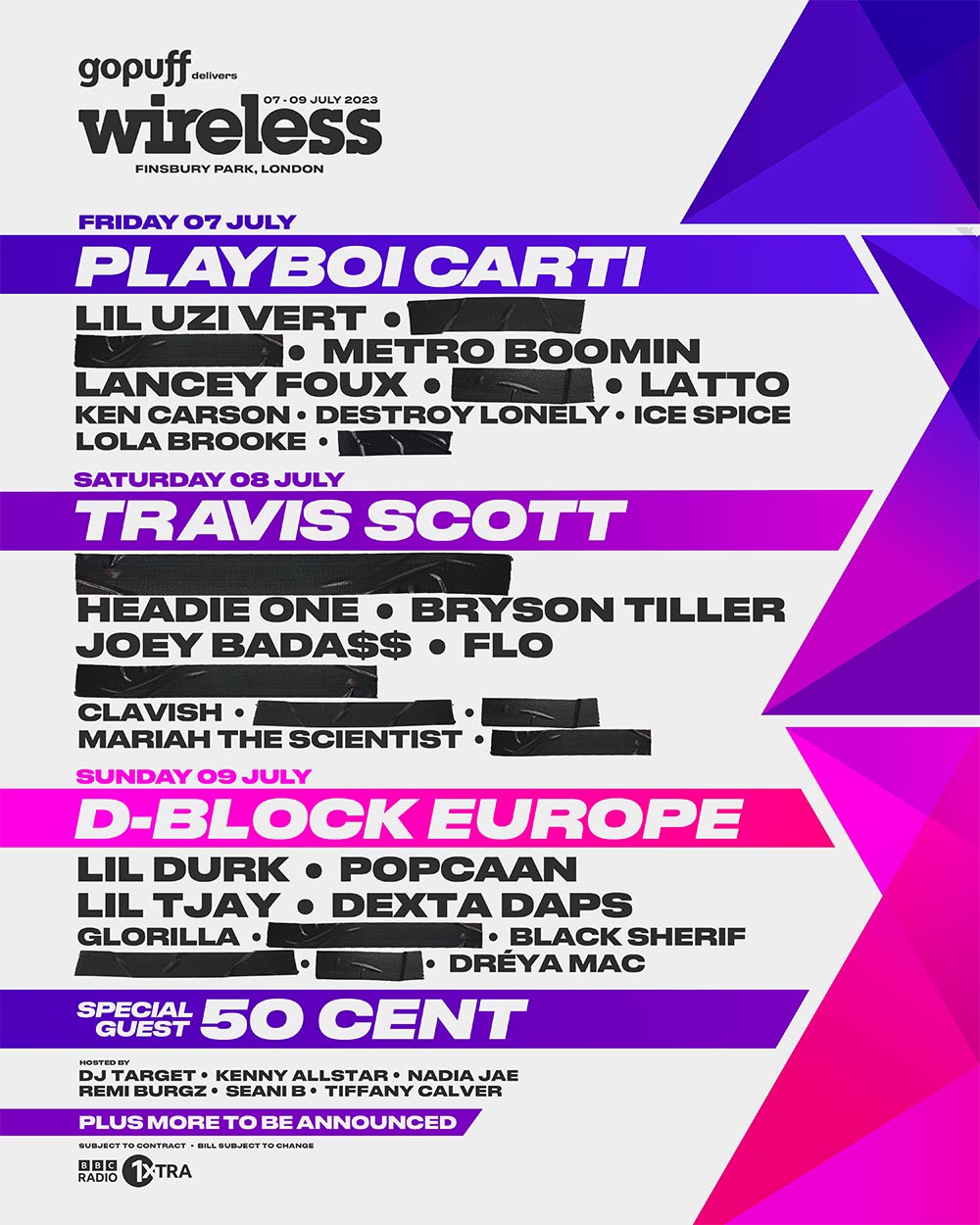 (Lil Yachty and Lucki have been announced for Saturday and K-Trap has been announced for Sunday since this poster's release)
Ticket prices:
2 Day ticket (Friday + Saturday): £195
3 Day ticket: £240
Friday ticket: £125//VIP tickets: £185
Saturday ticket: £125//VIP tickets: £195
Sunday ticket: £90//VIP tickets: £185
Les Ardentes (Liege, Belgium)
6th July – 9th July
Les Ardentes is one of the longest festivals on this list and rightfully so, it features a broad spectrum of talent from European afro beats artists to big-name American acts. This festival is truly a festival for everyone and every niche. For people who aren't familiar with Europe's diverse music scene, this festival is a great opportunity to discover new artists you can brag to your friends about. Also, Les Ardentes does support camping if you buy a 4-day ticket, so no need for expensive hotels!
The biggest names on the lineup are Travis Scott, Playboi carti, Ice Spice, Rema, Aya Nakamura, Central Cee, DJ Snake, J Balvin, and Kendrick Lamar.
There is no official lineup poster as of yet so here is the link to the lineup on their website: https://lesardentes.be/lineup
Ticket prices:
4-days regular pass: €247
4-days pass + regular camping: €287
1 day ticket Thursday 6 July: €95
1 day ticket Friday 7 July: €95
1 day ticket Saturday 8 July: €95
1 day ticket Sunday 9 July: €95
Openair Frauenfeld (Frauenfeld, Switzerland)
6th July – 8th July
Like the previous festival, Les Ardentes, Openair Frauenfeld offers talent from across Europe, Africa, and America. The acts range from niche native European acts such as B Young, Sainte, and Niska, to international juggernauts like Kendrick Lamar, Wizkid, and Stormzy. The festival also features pre-shows from the likes of Sheck Wes and Pashanim.
Camping is free at the festival and is included in every ticket. The site has 3 large camping areas, and a VIP camping area if fans wish to pay a bit extra. Openair Frauenfeld is one of the biggest festivals in Europe and is almost guaranteed to be a great time!
Official lineup poster below: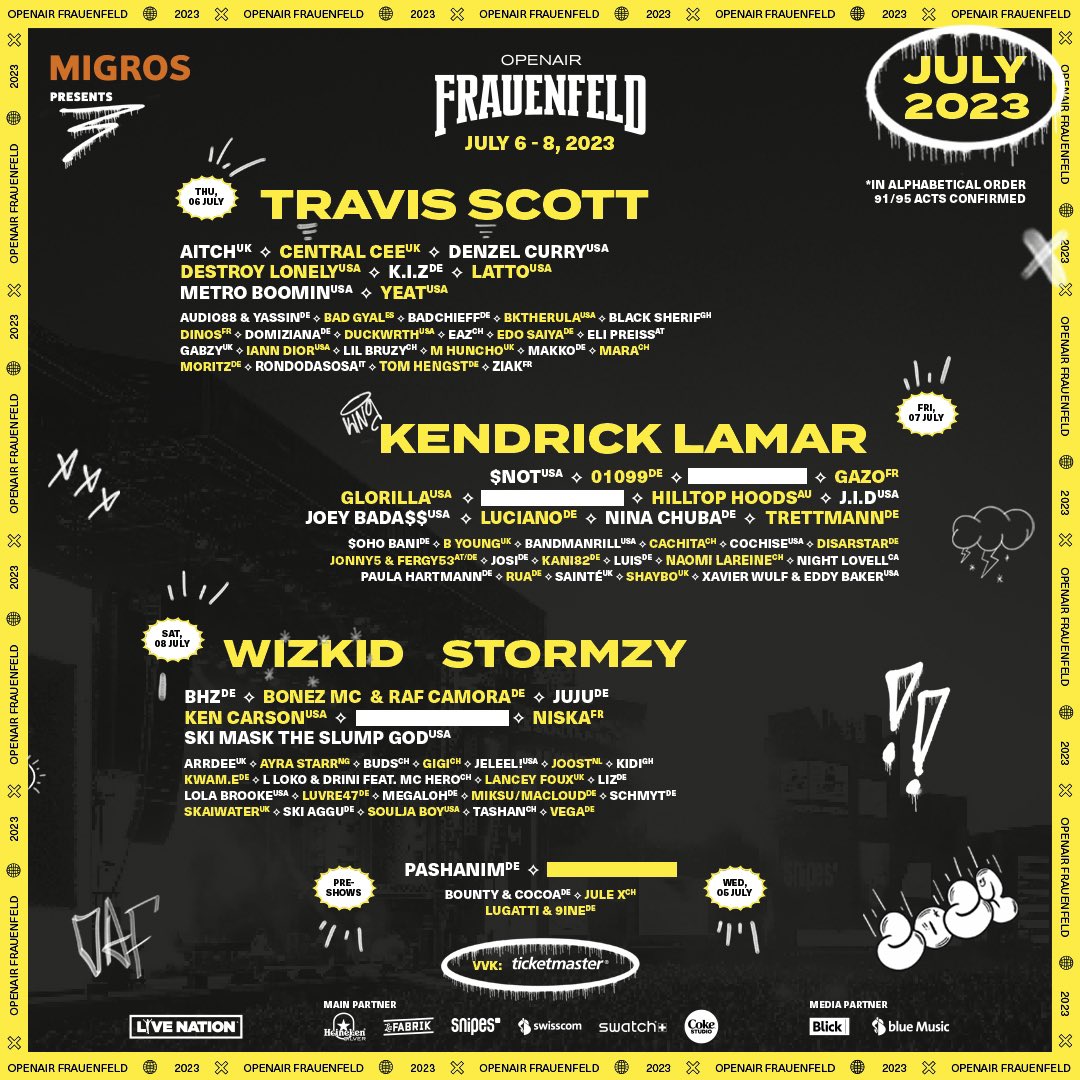 Ticket prices:
As of this article, the only available price is ₣359 due to other tickets being sold out.
Thanks for reading the article! Make sure wherever you go this summer, you enjoy it and stay safe. Follow our website closely for more music and festival-related news.
Written by Jake Campbell.
jakejcampbell123@gmail.com